Download the APP for Big Picture Series AR
This winter, Illuminate Adelaide and the Government of South Australia, through the South Australian Tourism Commission, are partnering with innovative regional councils and award-winning artists to shine a light on South Australia.
We continue our winter regional program with Big Picture Series x Colour Tumby in Tumby Bay from 13 August to 21 August. Located in the township of Tumby Bay, Big Picture Series x Colour Tumby will feature a street art walking tour reimagined for the digital age.
The project will feature three renowned South Australian artists Dave Court, Tom Borgas and Zoe Kirkwood presenting Augmented Reality Sculptures. A presentation of a large scale digital mural and Curator of Big Picture Series, Vans the Omega, presenting his new installation Light Beyond the Window Breaks. An audio-visual piece created by new media artist, Filip Roca, that revolves around and studies the physical world's structure and aggregate state of the matter and Carla O'Brien's Neon Dog Park and I Am Here.
Illuminate Adelaide is also pleased to be collaborating with mural festival, Colour Tumby, to illuminate several murals that will be painted throughout this incredible street art event, encouraging audiences to return and witness these murals in a new light throughout the town.
Partners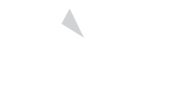 Program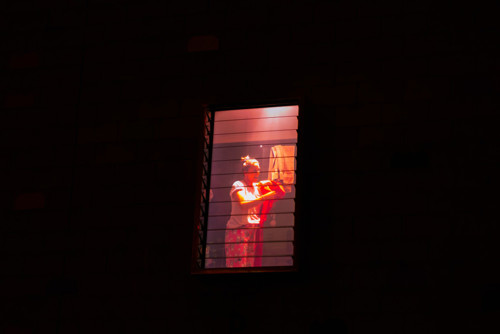 What are we allowed to view and what do we imagine the entrance to another dimension might look like? Is it as simple as a window? A window allowing light to be projected into our conscious mind. Visual ideas don't have to be limited, even to the imagination.
Joel Van Moore is an Australian contemporary artist based in Adelaide, South Australia working under the pseudonym of Vans the Omega for three decades.
Moving beyond the spectrum of graffiti and street art, Joel's current work is a collision of his 30-year career translated into vibrant abstract figurative pieces, animation and light installation. 
His works aim to invoke a primal response, inner contemplation and a reflection of the surrounding beauty in which he lives life.
Joel's colourful creations can be found all over the globe and continue to tell local stories which highlight individuals and their dreams. 
Photo: Frankie The Creative
Warning:
Work by Vans the Omega features explicit language and content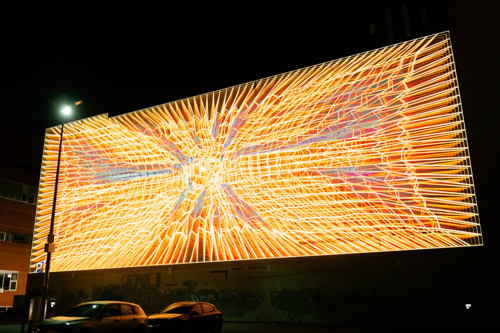 Can a static object, like a wall, behave as a liquid? Can it turn into gas and evaporate, or can it freeze and stay still? These are some questions that Filip Roca wants to solve.
This work is an audio-visual piece created by new media artist, Filip Roca, that revolves around and studies the physical world's structure and aggregate state of the matter.
Image: Frankie The Creative
Warning: Work by Filip Roca features strobing effect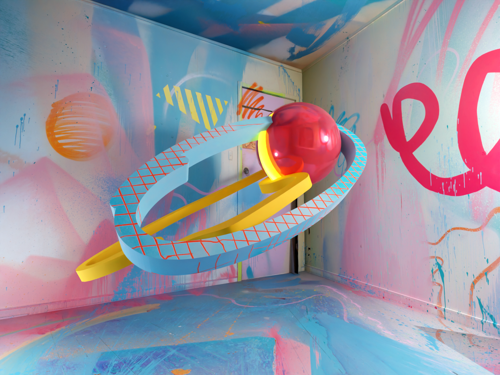 A central theme of Dave Court's work is the overlapping of digital and physical worlds, where or how there is a distinction, and how this affects our engagement, perception and interaction with the world and each other.
Dave uses a process based approach to his practice, experimenting with different media and applications, from digital illustration to commercial painting equipment, brushes, rollers, studio fashioned painting and sculpting tools and more. 
Through his work Dave thinks about questions of personal agency while engaging with the Internet of Things, the authenticity of digital objects, generational identity in the face of environmental disaster, and art as a catalyst for community in a time of extreme content saturation.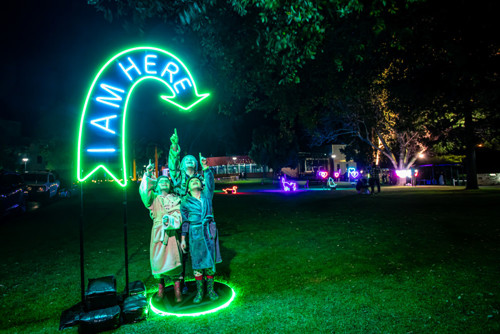 O'Brien's piece reminds us to take a breath and celebrate the moment and good fortune we have to be in this beautiful town.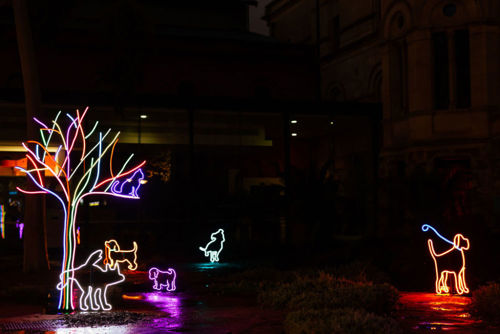 Welcome to the Neon Dog Park, where dogs and puppies of all breeds and sizes are having fun and waiting for you to love them and take a photo with them! The best thing about the Neon Dog Park is that there's no poop to scoop!
Photo: Frankie The Creative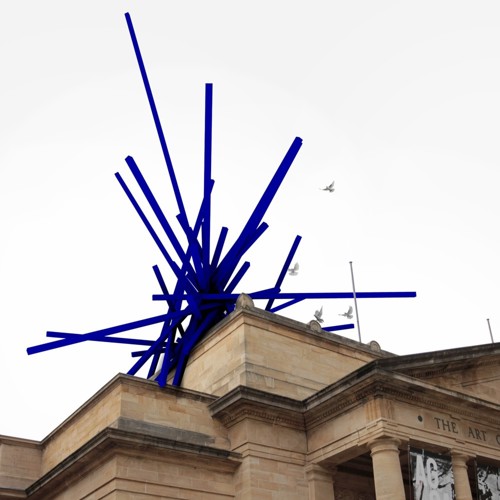 Tom Borgas' spatial practice extends across multiple platforms including gallery and project work, public sculpture, festival interventions, education, workshops and performance. His hand-crafted work is an investigation into the politics of the shrinking space between the virtual and the physical– a reframing of the sensory value of actual experience over digital (dis)connectivity.
Tom has exhibited at shows and galleries around Australia including PICA (Perth), The Jam Factory (Adelaide), Artisan (Brisbane), Salamanca Arts Centre (Hobart), MARS gallery (Melbourne), Stockroom (Kyneton) and as part of the 2018 Kyneton Contemporary Art Triennial. Commissioning bodies include Urban Art Projects, Golden Age Group, The City of Brisbane, Rockhampton City Council, The Hilton Adelaide, Splendour in the Grass, the City of Adelaide and Renewal SA. Tom's practice has also received support through contributions from the Australia Council for the Arts, Arts South Australia, Copyright Angency, NAVA and the Helpmann Academy.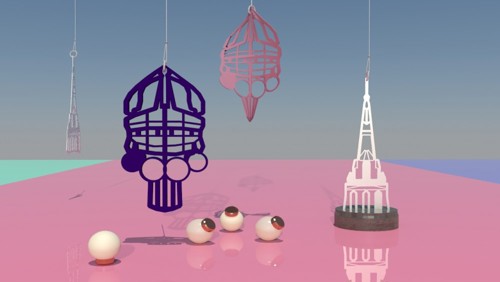 Zoe Kirkwood is a visual artist currently working in Australia on Kaurna land (Adelaide).  Interested in art's ability to act as a generative and speculative space that can spark momentum from 'what is' towards 'what could be', in her more recent work she creates installations, sculpture and video that playfully engage with ideas of new economic, political and alien futures.  Zoe is a 2019 graduate of the Master of Fine Art (MFA) programme at Glasgow School of Art which she undertook after being awarded the 2017 Anne and Gordon Samstag Scholarship.  Her work has been shown at Tramway gallery in Glasgow, the Art Gallery of South Australia, Perth Institute of Contemporary Art, and Canberra Contemporary Art Space.  In 2018 she participated in Scotland's contribution to the Venice Architectural Biennale - The Happenstance.  In late 2019 she completed a residency in Florence researching early forms of international trade and banking as a part of the Royal Scottish Academy John Kinross Scholarship.    
WHEN
Fri, 13 August - Sat, 21 August
ACCESSIBILITY
Wheelchair and pram accessible. 
Content Warning:
Work by Vans the Omega includes explicit language and content
Work by Filip Roca features strobing effect