This winter, Illuminate Adelaide and the Government of South Australia, through the South Australian Tourism Commission, are partnering with innovative regional councils and award-winning artists to shine a light on South Australia. 
We launch our winter regional program with Digital Garden in Mount Gambier from 9 June to 4 July. Located in Mount Gambier's Cave Gardens in the town centre, Digital Garden will reimagine this popular local hub with a series of installations from renowned international companies Studio Toer (Netherlands) and Tundra (Russia) as well as Australian artist Kaylene Whiskey. Come take a walk through Cave Gardens, transformed into a Winter Wonderland.   
The City of Mount Gambier acknowledges the Boandik Peoples as the Traditional Custodians of the land and water our city sits upon today. We respect and recognise the deep feelings of attachment and the spiritual relationship our Aboriginal and Torres Strait Islander Peoples have with the land and water.
Presentation Partner - Firefly Field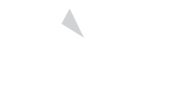 FIREFLY FIELD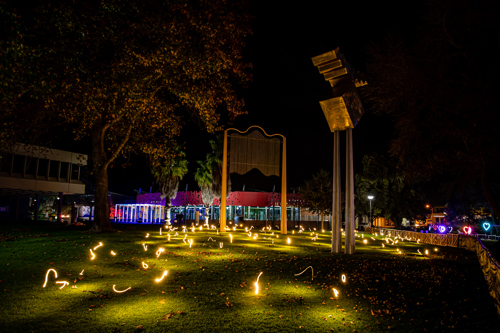 Before fireworks and festivals, the humble firefly was the animal kingdom's greatest late-night performer. The sight of bioluminescent Lampyridae in the night sky has long captured human imaginations, but its beauty also lies in the essential, unique role these light shows play in each species' life cycle. Life, death and rebirth are all tied up in these tiny, flickering points of light – is it any wonder we can't look away?
In an eye-catching light installation, Studio Toer (Netherlands) has crafted a large-scale natural phenomenon. Having appeared in Shanghai, the Faroe Islands, Diriyah and Vivid Sydney, Firefly Field will now transform the Mount Gambier Cave Gardens into a shimmering display of floating LEDs lights that glow, dance and enchant.
This work was initially made for Vivid Sydney 2019 and commissioned by Destination NSW
Presentation Partner KAYLENE WHISKEY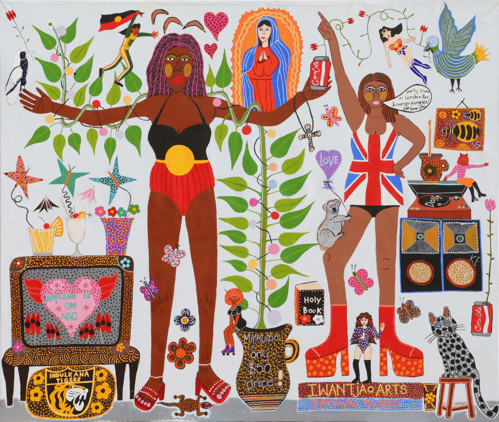 Kaylene Whiskey's colourful world of desert pop art serves up a playful window into contemporary Aṉangu life and culture. Whiskey's stunning works will be screened and brought to life in animations the artist has produced in collaboration with Jackson Lee.
In the Aṉangu Pitjantjatjara Yankunytjatjara Lands community of Indulkana, Whiskey grew up surrounded by the Tjukurpa (cultural stories) and inma (ceremonial song/dance) taught by her Elders, and the super-heroines and superstars on the TV and radio.
Today, Whiskey's art draws on that rich and eclectic set of influences to remix celebrity culture and remote community life, as pop idols like Tina Turner, Dolly Parton and Wonder Woman are dropped into the red dirt and blue skies of Central Australia.
During Digital Garden, audiences can experience the big humour, big characters and big colours of Whiskey's work on a grand scale.
Image: Anangu Kungka and London Lady, 2020, Acrylic on Linen, 198 x 167cm. Courtesy of the artist and Iwantja Arts
ROW
TUNDRA | @wearetundra
Science fiction promised us there would be holograms, and St Petersburg-based collective TUNDRA are here to deliver. Their new work Row uses a series of high speed LED fans to suspend a hypnotic array of shapes, patterns and meaning into the air in front of us. This curious installation offers a fascinating new way of visualising and sharing seemingly abstract data and messages through light and sound —  a way of communicating that's beyond words. The future is here, and it's even more strange and beautiful than we pictured.
Please be advised this experience contains strobe effects and flashing lights.
CARLA O'BRIEN
Carla O'Brien's career as a visual artist began in 2009 after experiencing the world renowned Burning Man festival in Nevada, USA. Her primary medium is LED Neon Flex, a revolutionary replacement of traditional Glass Neon. She creates awe-inspiring neon art installations now seen at festivals and events and in restaurants, bars and in peoples' private collections. Her highly interactive neon installations are social media and crowd favourites.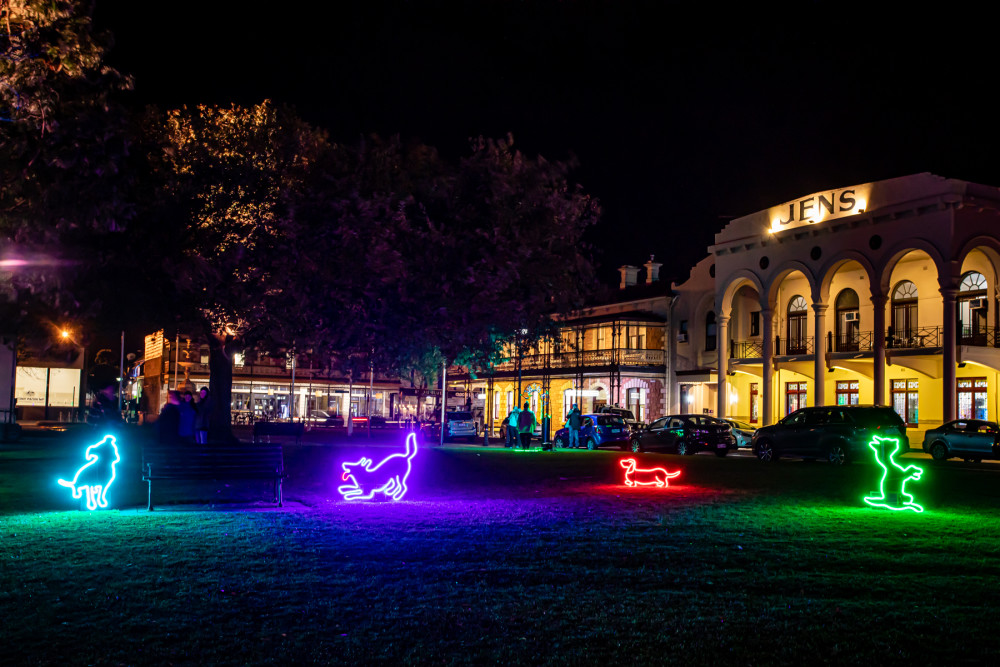 Neon Dog Park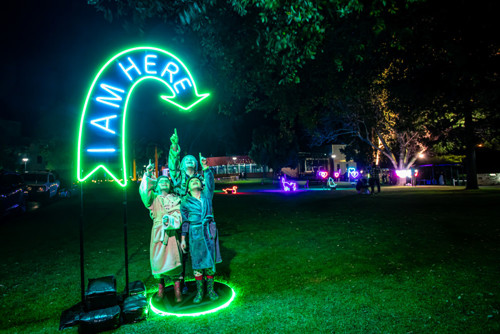 I Am Here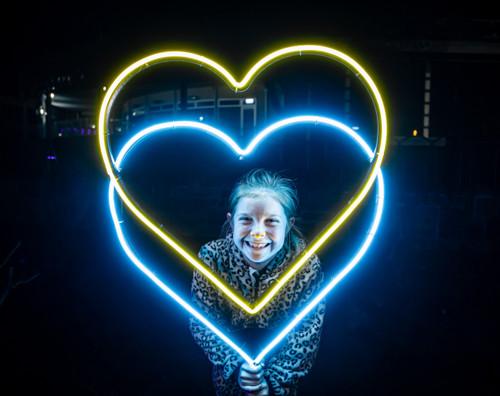 Neon Hearts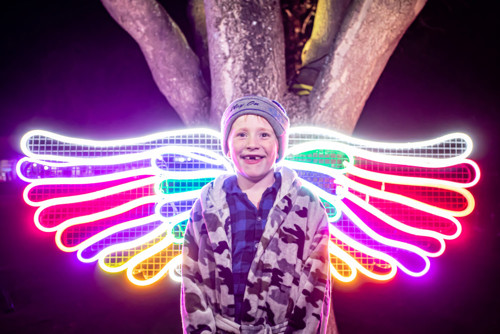 Neon Angel Wings
CAVE GARDENS ILLUMINATION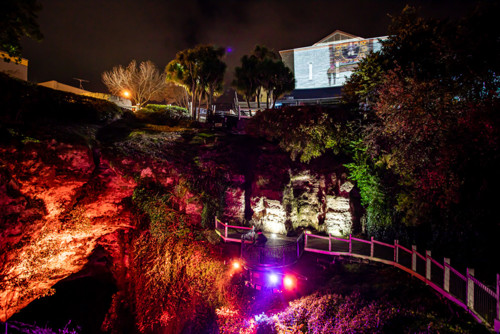 Mark Pennington
MORE
More details will be announced soon for our programs in Tumby Bay and Renmark.
Other Regional dates:
Tumby Bay (13 August – 21 August 2021)
Renmark (16 September – 9 October 2021)
WHERE
Mount Gambier Cave Gardens/Thugi
1 Bay Rd, Mount Gambier SA 5290
Get directions