Showcasing a brand-new series exclusive to Base Camp, Electric Playground features two premiere installation works from South Australia's most innovative audio-visual artists
ORBIT - Mapped and Motez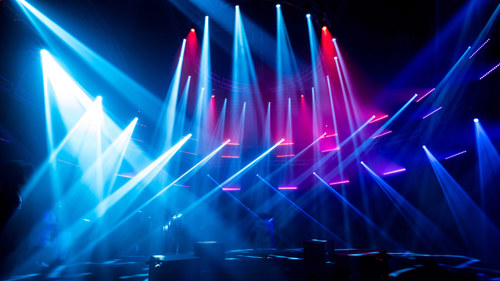 A landmark audio-visual display humming to the cycles of our solar system
Inviting audiences to experience a cacophony of cosmic sound inspired by the orbital cycles of our solar system, ORBIT is a ground breaking synergy of sound design paired with state of the art lighting effects.

Featuring a dedicated soundtrack conceived and mastered by renowned Adelaide music producer Motez Obaidi working together with the technical innovation of creative studio Mapped Design under the pseudonym Harsh Realities. Imagine yourself at the centre of the solar system as planets, moons and stars become sounds, orbiting around you in this captivating abstract Orrery.
Full of awe, wonder and excitement, witness how the rhythms of the universe repeat and intersect with each other through vivid visuals and immersive surround sound.
Find out more at Harsh Realities.
SEEP - House of Vnholy in collaboration with Marcus Whale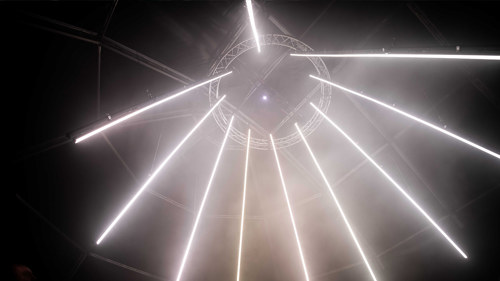 The feeling of falling through the possibilities of light


Just like water has a way of working itself through obstacles to reach the earth, light can be manipulated to act in the same way.
SEEP is a new installation work exploring the experience of seeping and falling through the movement of light and white noise. From experimental studio House of Vnholy known for their macabre and neo-gothic performance art style, this brooding and atmospheric exploration uses haze, light spirals, strobe effects and sub frequency sound to recreate a temporary feeling of falling, disorientation, compression and release.
An unnerving yet riveting experience designed to create moments of transcendence, meditation and contemplation, SEEP is a voluntary thrill for the brave and the curious.
Image - Jordan Munns
NEON VILLAGE - Carla O'Brien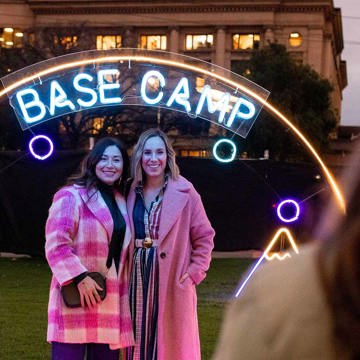 A Winter-themed playground of Neon and multicolour
Carla O'Brien's neon light art installations are bright enough to liven up even the greyest of Adelaide's days and nights.
In this special showcase for Electric Playground, these illuminating works are created with LED Neon Flex – a revolutionary new replacement for glass neon giving you an immersive 3D multicolour experience. Take a photo with a cute Big or Baby Penguin, take a ride on a glowing winter sled, or give a Big Neon Snowman a hug!

Vibrant and glowing bright at night, Neon Village is a cool Winter-themed delight to mingle amongst and capture the perfect selfie.

Whilst it is not mandatory to wear masks to enter Electric Playground we encourage patrons to protect themselves by wearing a mask.
Co-presented by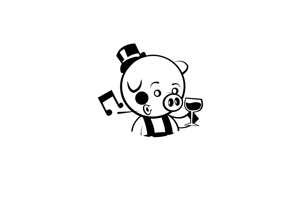 WHEN
Fri 01 July - Sun 31 July
Sessions available every 30 minutes during Base Camp opening hours
Wed - Thu 4.30pm to 8pm
Fri 4.30pm to 9pm
Sat 10.30am to 9pm
Sun 10.30am to 8pm
No sessions Mon - Tue
School Holiday Session Times
Mon - Thu 10.30am to 8pm
Fri - Sat 10.30am to 9pm
Sun 10.30am to 8pm
WHERE
The Moa Tent @ Base Camp
Victoria Square / Tarntanyangga
Get directions
TICKETS
General Admission: Sun - Thu
$15.00
General Admission: Fri - Sat
$20.00
Group 4+ Fri - Sat
$15.00
Per person
Under 10 years
FREE - however a $0.00 ticket is required for entry. MUST be accompanied by a ticket holding adult
ACCESSIBILITY
EVENT NOTES
Visit Base Camp
Enjoy Illuminate Adelaide's latest winter delight at Victoria Square/Tarntanyangga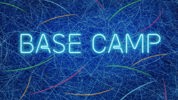 You might also like...